UX & UI
Studio
We help companies define great visions, turn ideas into reality and improve their products and services by offering unforgettable customer experiences.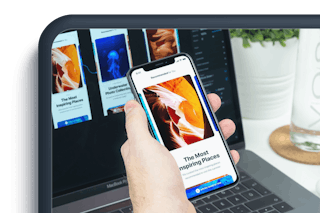 The best services to design and develop the right product, quickly
We take products into consideration at all stages necessary for their creation: product discovery, commercial and user research, UX / UI design, prototyping, usability testing and future product improvements.
How can we help you
All our services revolve around your business, your users, your product and the challenges you face.
Our design process
After nearly 15 years of experience, we have perfected a results-oriented design methodology to iteratively improve the experience of your customers. Our team uses the basic steps below to customize a tailor-made commitment for each of our customers.
01

Discover

Understand your business and users to discover innovative opportunities that can make a difference.

02

Ideate

Explore insights to train and prioritize a strategic plan to impact your goals.

03

Create

Implement the plan through digital design and development solutions

04

Validate

Collect user feedback to test solution effectiveness and iterate
Flexibility.
Here's how you can work with us
Most of our customers benefit from a monthly design subscription. However, many of them initially came to us with a very specific need. So it is not unusual for us to start our relationship with a clearly defined project or workshop.